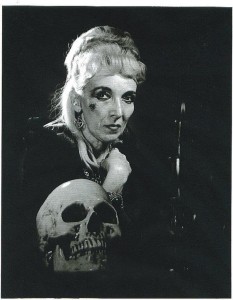 What intrigued me most about Lady Circe was that she really lived life with a passion. She had so many varied careers! She had such a dramatic flare for things! She was so magnetic! For me she was the mysterious door to the Craft. Open just enough to invite me to explore, but not enough to spill all the secrets. These she would dole out, one by one, as she felt her students were ready, in weekly classes.
I discovered early on, though, that the best learning opportunities were in the kitchen with her or sitting around the dining room table. Inevitably, a story would start; a small adventure from her early days as a witch. Hidden in the stories were lessons, complete with catch phrases, about how to live a Wiccan life. "Let the spider run alive, your business, then, is sure to thrive." "If you would walk the witch's way, observe with care the child at play." I never tired of the stories (there were so many) and now, I have a few of my own, including an adventure or two with her.
Lady Circe was outspoken. She meant what she said, said what she meant and always meant to speak her mind! She never worried about what others thought. "(I) fear nothing from my lips". She had a way of shaking you loose from your old ways of thinking with her no-nonsense, commanding voice. She didn't have time for wimps. If she saw strength in you, she expected you to use it. Once while I waited several minutes to get her attention in her busy kitchen, she said impatiently, "Bona Dea! You are too damn polite! Speak up! Say what you have to say!"
She stressed to all of us, that: "How you carry yourself is most important." Protocol, etiquette and physical presence are what the outside world sees and they would know witches by what they see in us.
Lady Circe had a soft, motherly side, too. She would give you whatever you needed, without hesitation. People down on their luck occasionally came to her door and she would instruct us to give them food from her refrigerator (especially if there were children involved) even if that depleted her own supplies.
If it was advise you needed, she would get out her tarot cards and remind you that you had the strength to deal with whatever the problem was. You left, sometimes with herbs or oils, but always with the feeling that if Lady Circe thinks you can handle it and things will turn out all right, then you can and they will!
I feel her presence every time I light a candle, every time I blend incense or oil, every time I need a reminder of how strong I really am. She is still with me, as she is still with all who love her. Blessed be, Mother Circe.
Bona Dea