Unleavened Bread
2 cups whole wheat flour
1 tbls cooking oil
½ tsp salt
Warm water added until mix is smooth
 Mix and let rest for ½ hour. Take egg sized pieces and roll flat. Cook on grill, griddle, or frying pan.
Ancient Mesopotamian Bread 
14 oz flour
1 cup water
½ tsp salt
Mix slowly/ Knead the dough and make into flat, round patties. Cover dough with cloth and let it sit overnight. Next day bake at 350° for 30 mins.
 *(We did not try this one yet, because it takes overnight. The other ones turn out to be very delicious.)
Pennsylvania Dutch Corn Bread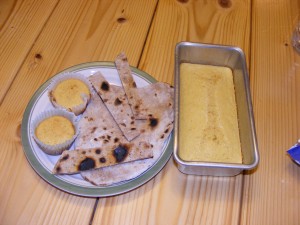 ¾ cup corn meal
¾ cup flour
¾ cup sugar
1 ½ tsp baking power
½ tsp salt
¾  cup milk
¼ cup butter (melted)
2 eggs
Mix all ingredients and beat 2 mins.
Bake in greased pan for 25-30 mins. @ 350°.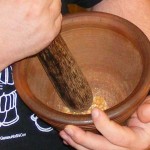 We grounded up corn and added it to the corn bread.
 And we grounded up toasted wheat  and added it to the unleavened bread.
Most flat breads are flour, salt, and water mixes
Pita flat breads are usually made with yeast
Tortilla (Torta means round cake) is made with wheat or corn.