Ostara was the First day of Spring, but like most things that grow…it takes time for the warmth to return to the earth. We must be patience, attend our gardens and let nature grow in its own time.
At our ritual we wrote what we want to grow in our lives this year on paper seeds, and planted them in our seed boxes.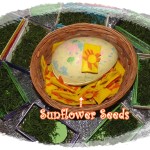 We receive a gift from the Sun Goddess…sunflower seeds blessed with his warming love. We helped to awaken the animals, and plants to the coming of spring. Then we dance and sung to awaken our bodies, our minds, and our spirits.