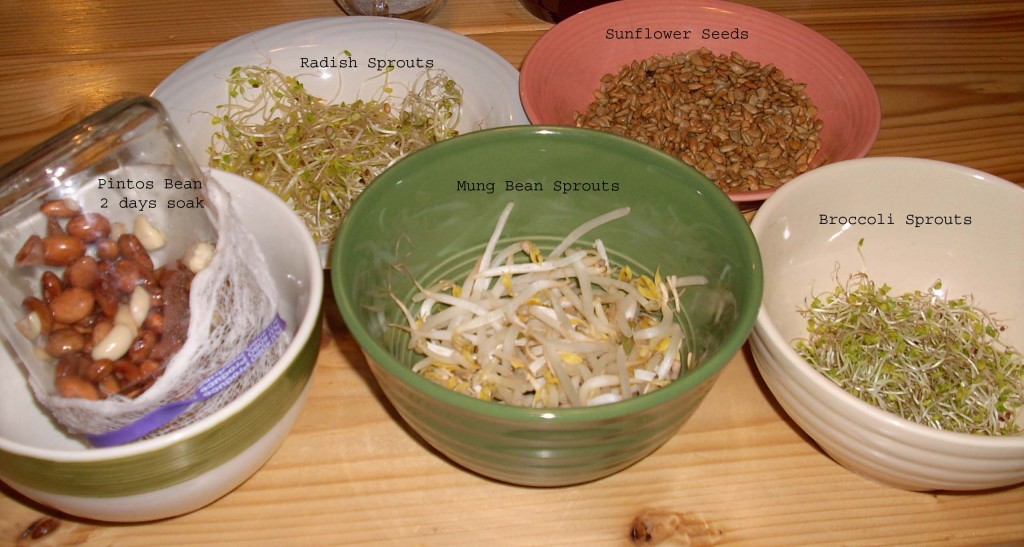 All sprouts including lentil and mung( but not other bean) can be eaten fresh. Other beans sprouts are more easily digested when they are cooked before eating.
Cooking Sprouts:
Drop into boiling water slowly (the water must stay boiling). Simmer covered for 30-40 minutes or until tender enough. *Kidney and Marrow beans will take almost a hour.
How to use sprouts:
Add to stock; seasoning for soup; and/or cooked veggies.
Cool(if cooked) and add to salads, (marinate if you want)
 Mung bean sprout are great in salads, no cooking required.
Freeze them (freezing will destroy crispness).
Add to casseroles; bake beans; chili.
Stir Fry (steam the sprout at the end before adding the rice)
Sprout Burgers
Dry the sprouts and grind them to add to flour
Thickening for soup and gravy
 Casserole topping instead of cracker crumbs
Flour for baking (not bean sprouts-too oily)
Why eat sprouts?
"Sprouts of foods like alfalfa, radish, broccoli and soybean are rich source of antioxidants that can protect us against disease and effects of ageing. These are good anti-aging foods. Broccoli sprouts have high amounts of a natural cancer-fighting compound, while Alfalfa sprouts lower the bad LDL cholesterol.  http://www.fatfreekitchen.com/sprouts.html" Check out this website on how to grow your own sprouts!  Please do not eat anything unless you know what it is, and have follow all proper instructions on how to prepare the food. Thank you!