Yule
Open Ritual
Our Yule ritual will be Dec. 17th at 7pm. This ritual will be open, and if you would like to attend please email/call Lady Arawyn for directions and the welcome letter. This Yule celebration is to honor the Divine Child's birth. Have Hope…the light will return! Let's join together and honor the three Goddesses; Maiden, Mother and Crone as they share their wisdom. Witness the Holly and Oak King battle.  Please join us as we help to turn the wheel bringing in….Yule!
The Jack Frost is whisper to us all!
arawyn26@hotmail.com
(419)276-8832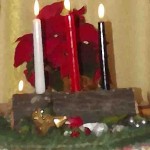 *We are accepting new students who can start classes in fall of 2016; if interested please join us at this ritual to see if we are what you might be looking for.*
*For those of you who wish to contribute to our website please email articles, events, poems, recipe and/or stories to arawyn26@hotmail.com and once approved, I will get them posted.
If you are having any problems emailing me, please leave a comment here and I will answer it.
Thank you,
Lady Arawyn Lyonesse, HPS
Please check out Ritual of 2016