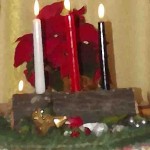 Yule

Dec. 15th
Come and join us for our Yule Ritual, on Dec. 15th, as we celebrate the return of the Light, the Divine Child. 
This will be a combine ritual with our sister coven Owl's Grove and us.

Ritual will be at 7 pm, please arrive 15 early.
Dress in comfortable clothing can be cold in the basement.

Feast will be afterward, bring a dish to share or a donation to help with the coven's expenses
For information on the location please email Lady Arawyn using the email below.
If you do not hear from her within a day, send her a text using the number below.

arawyn26@hotmail.com
(419)276-8832  
*We are accepting new students who can start classes in winter/2019.
I

f interested please join us at this ritual or the next one to see if we are what you might be looking for.*



Imbolc Ritual will be Feb. 2, 2019
Remember when visiting a coven, you should never be ask to do anything you are not comfortable with.  
If you are not comfortable doing something…DO NOT DO IT…
Be Safe my Sisters & Brothers!
New policy starting in 2019, click the link to get details. Thank you.