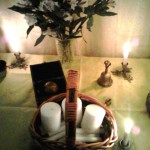 Imbolc
Feb. 1st
Come and join us as we celebrate Imbolc, Candlemas. We will be honoring the Gods, and Blessing the candles for the coming year.
Ritual will be at 7 pm, please arrive 15 early.
Dress in comfortable clothing, we will be inside. Preferrable black

Feast will be afterward.

New Donation Policy as of 2019: We ask for $10 to attend, or $5 plus a dish to share at feast. All donations go to help with the coven's expenses.
For information on the location please email Lady Arawyn using the email below.
If you do not hear from her within a day, send her a text using the number below.

arawyn26@hotmail.com
(419)276-8832    
*We are accepting new students who can start classes in Winter/2020.
If interested please join us at this ritual or the next one to see if we are what you might be looking for.*

Remember when visiting a coven, you should never be ask to do anything you are not comfortable with.  
If you are not comfortable doing something…
DO NOT DO IT…
Be Safe my Sisters & Brothers!
New policy starting in 2019, click the link to get details. Thank you.