Litha
June 16th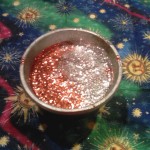 Come and join us for our Litha Ritual, on June 16th, as our coven celebrates the First Day of Summer, the longest day. 
Ritual will be at 7 pm, please arrive 15 early.
Dress in comfortable clothing for it can be hot.

We will be doing the ritual indoors.

Feast will be afterward, bring a dish to share or a donation to help with the coven's expensives.
Bring a camping chair, we may eat outside if weather permits.
For information on the location please email Lady Arawyn using the email below.
If you do not hear from her within a day, send her a text using the number below.

arawyn26@hotmail.com
(419)276-8832  
*We are accepting new students who can start classes in spring of 2018; if interested please join us at this ritual to see if we are what you might be looking for. We are starting a new class in spring to give new students time to visit us for a few Sabbats and it will give them time to take the Spellcraft 101 class*
*For those of you who wish to contribute to our website please email articles, events, poems, recipe and/or stories to arawyn26@hotmail.com and once approved, I will get them posted.
If you are having any problems emailing me, please leave a comment here and I will answer it.
Thank you,
Lady Arawyn Lyonesse, HPS